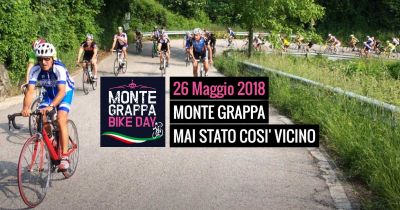 Friday, 26 May 2017 - Friday, 26 May 2017
5th Edition Monte Grappa Bike Day - Saturday 26th May 2018
Bike lovers adore Monte Grappa and its roads towards the pike (Cima Grappa).
This mountain in fact has been theater of several Giro editions and still has a particular charming power to the cyclists. What if for one day, they could be protagonists without worrying about the car traffic? This dream come true on the Monte Grappa Bike Day: a free and non-competitive race open to all bike lovers!
Starting point in Semonzo del Grappa, way up through road Giardino SP140 (toward Cima Grappa) and way down through SP148 (road Cadorna) to Romano d'Ezzelino. At the end of the journey you can join the Pasta Party (registration online).
Don't miss this huge gathering of bicycle fans that led over 10.000 people on Mount Grappa last year!
Further information: www.montegrappabikeday.it
Traffic and closed roads information - Saturday 26th May 2018
Way up: from 8am to 1pm road closed from Semonzo to Cima Grappa (SP140 and SP149)
Way down: from 10am to 3.30pm road closed from Cima Grappa to Romano d'Ezzelino (SP 149 and SP148)
Free Flight Information - Saturday 26th May 2018 - Roads Closed:
Due to Monte Grappa Bike Day it won't be possible to reach Stella, Tappeti, Casette, Camol and Panettone take-off areas from 8.00am to 1.00pm and Antenne and Campeggia take-off areas from 10.00am to 3.30pm.