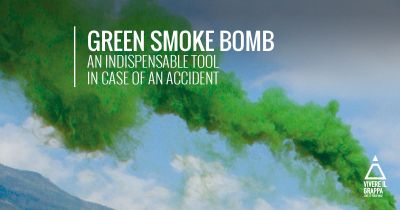 Green smoke bomb: an indispensable tool in case of an accident
Do you have the green smoke with you when you're flying? Are you sure that you know how and when to use it?
The green smoke bomb is used to inform your own position in case you're unharmed after an accident with paraglider or hang glider. It must be used only if rescue intervention is not necessary and to warn other pilots that the situation is under control.
Use the flare solely and exclusively when the pilot does not need medical care.
In any case, contact the Emergency number 118 (free charge) to inform them that you don't need any kind of assistance, and to indicate your particulars, your position and your sail color. It is pilot responsibility to warn 118 that no help is needed, in order to avoid unnecessary assistance, for which insurance reimbursement might be required.
FLARE USE
Only lught flares if you are sure that someone can see them (pilots in flight and/or person landing/taking off).
Flares should only be used if all the following conditions are met:
The pilot is well and DOES NOT NEED MEDICAL ASSISTANCE.
You wish to avoid activating the search and assistance service.
You cannot close the sail immediately.
FIRE PREVENTION
Only light flares in open areas.
Be sure to set the flare away from dry grass, leaves or twigs.
Make sure that the flare is completely extinguished after use.
Remember that the person lighting the flare has full responsibility for the flare.
It is only allowed to use the green smoke to indicate your position in case of accident. The purpose of the green smoke is to warn other pilots in flight that there is no need for assistance and that you are fine.
Red smoke
The red smoke must be activated only to signal your position during the rescue phase.Red smokes are not a request for help.
After calling for the rescue intervention, the red smoke can be used by the operator only to indicate the position of helicopter operations.
At the sight of the red smoke all pilots in flight must move / clear the area and keep a safe distance (as general rules) to allow the helicopter to operate safely.