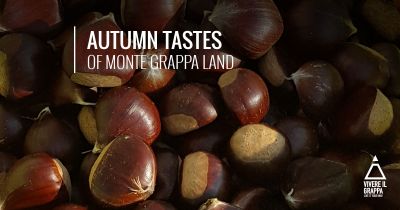 Saturday, 22 September 2018
Autumn in Monte Grappa: taste and tradition!
Summer has just ended leaving us with sweet memories but there is not time for sadness: air refreshes and natures dress up with thousands of colours. Mountains and hills provide fruits that will enrich our tables! Autumn in the land of Monte Grappa and Asolo Hills is a real feast for eyes and tummies!
Scargar Montagna
Winter is getting nearer and almost all mountain farms are closing and moving their business downhill. To move the herd from the mountain to the plain is called "scargar montagna" literally translatable with "unload or empty up the mountain". This operation is typified from the cowbells sound and it is usually celebrated with many feasts and fairs.
Olives and Grapes Harvest
Harvest in the vineyard is the typical activity of this period, but the fruits of this great fatigue will be tasted only in spring (with the exception of 'new wine' such as the torbolin or the novello). The mite climate of this area allows the cultivation of the olives that are harvested in autumn too. The delicious extra-virgin olive oil produced in the area of Pove del Grappa got a DOP classification and it's called "Veneto del Grappa" You must taste it raw on a bruschetta!
Mushrooms
The woods leaves turn yellow and fall creating a fertile environment in the underbrush that allow the growth of delicious mushrooms! They are great protagonists of local recepies (risotto but also side dishes) and are celebrated in exhibitions and fairs everywhere. Porcino (brisa), Finferlo (gaet), Chiodino (cioet) and Pioppino are the typical mushrooms of our area.
Chestnuts
Our woods give another delicious fruit in this season: the castagne or marroni (chestnuts). The Marroni del Monfenera IGP are the biggest and tastiest you will ever try! In our tradition chestnuts are boiled or roasted but you can find also many dishes made by chestnuts flour!
Pumpkin
Pumpkins colour up the table with their orange sweet pulp. Soups and risotto are the classic dishes but believe us and try the amazing gnocchi di zucca with ricotta affumicata and you won't regret it! Pumpkin really fit amazingly well with mature cheeses and as main ingredients of quiches and (sweet and savory) pies.
Radicchio, the king
People from Treviso wait for Winter non only for Christmas but most of all for the king to come. We're talking about the magnificent Radicchio! Some varieties come early such as the 'Precoce di Treviso IGP' or the 'Variegato di Castelfranco IGP' but it's worth to be patient for the sinuous red leaves of the 'Tardivo di Treviso IGP'. It enriches a big amount of receipts such as lasagne and risotto but it's also delicious raw or grilled, enchanting you with it bitter and unique taste.
The table brims of delights!
The cured meats and typical cold cuts such as Sopressa, Coppa and Porchetta Trevigiana, the Monte Grappa cheeses Bastardo and Morlacco, the great meats grilled or roasted, the seasonal vegetables like beans, peppers and cauliflower complete the local enogastronomic offer that fits well with our great red wines (Montello e Colli Asolani Rosso DOCG, Raboso, Merlot,Cabernet) or our still white ones like Pinot…. Waiting for the sparkling wines of Spring (Prosecco dei Colli Asolani DOCG and Valdobbiadene Conegliano DOCG).
We recommend:
To taste traditional or modern recipes...
Ristorante Belvedere, Ristorante Dalla Mena, Ristorante Pizzeria Ezzelino, Ristorante Locanda Montegrappa, Ristorante Pizzeria L'Antica Abbazia, Ristorante Pizzeria Garden Relais, Agriturismo Ca' Fossà, Ristorante Pizzeria Tilly's, Ristorante Albergo San Giovanni.
For a yummy snack...
Bar Osteria Canal e Birreria Capocaccia
To find great souvenirs to bring home...
Market al Paradiso, Bellò Vini e Bevande e Alimentari il Volo
So, for a nice Autumn holiday in the Monte Grappa and Asolo Area we suggest you to leave home with empty stomach And empty suitcases! We bet you'll surely come back home with satisfied palate, lots of tasty souvenirs for friends and family and above all a heart full of sincere emotions that an only be transmitted from whom loves and cultivates his earth.