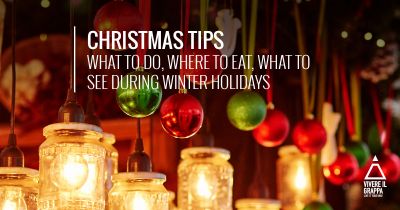 Friday, 30 November 2018
Winter Holiday on Monte Grappa
What are you looking for? Enchanting towns with typical markets? Outdoor sports into nature? Delicious food and great feasts? Art, culture and tradition? We've got the answer! Come and visit Monte Grappa! Here you'll find this and much more, in the heart of the Italian North-East, midway from Venice and the Dolomites. Take a look on the article and find out some tips about our territory!
Little Towns... Big Surprises!
Almost every town and village in the neighborhood offers to visitors a Christmas Market, Santa Claus (Babbo Natale) hanging around and typical kiosks with hot beverages (try the hot wine -vin brulè-). What you might don't know is that many of these places are also rich of culture and pearls of art! Bassano del Grappa host a tiny beautiful market and a great museum with several masterpieces of Jacopo da Ponte. Cittadella city centre Christmas Market is surrounded by an amazing medieval wall. Asolo, one of the most beautiful 'borghi' of Italy will add the Christmas market and celebration to its several amazing attraction such as the castle and the roman aqueduct. Don't miss Castelfranco Veneto, home town of Giorgione and Possagno hometown of Antonio Canova. We've got also 2 Andrea Palladio Villas so close to us: Villa Barbaro and Villa Emo are part of the UNESCO World Heritage! Read more...
Trentino is not that far! There you'll find some bigger markets like the one in Trento or Levico.
Treviso and Vicenza, wonderful and romantic cities just 1 hour away are so enchanting with their lights dress!
Winter Sport and then... Relax!
Snow-shoes, ski, climbing and via ferrata are available: our expert guide Gianluca Bellin will lead you into adventures totally safe! We also reccomend the snowshoes excursion by night with the moonlight: ask to Sport Montegrappa guys.
Paragliding and Hang-gliding Tandem Flights do not stop even in Winter: the clear sky and the fresh air ensure you beautiful views! Contact Sport Montegrappa and Airsports Montegrappa for furhter information. For indipendent pilots, our take-off and landing areas are available, take a look to the map!
Mtb lovers, this tip is for you: there is a bike park in the middle of the wood where to have fun and taste a bit of our territory! Info at GGG - Grappa Gravity Games.
To heat up yourself, to relax and give yourself a cuddle we recommend Centro Olistico Airone, Garden Relais SPA and Terme dei Colli Asolani!
Radicchio and the party begins!
Long sinuous leaves, purple and white, unique bitter taste so good for our palates: here it comes the Radicchio! Don't miss it any of its kind: Tardivo, Precoce and Variegato... and any recipe from pasticcio to gnocchi, from grilled to stewed it'll conquer you!
Great lunch and dinner are a 'mandatory' around here! We recommend grilled meat, local cheese and cured meats, wines and beers and traditional cakes.
Visit the restaurants of the area, we recommend:
To taste traditional or modern recipes...
Ristorante Belvedere, Ristorante Dalla Mena, Ristorante Pizzeria Ezzelino, Ristorante Locanda Montegrappa, Ristorante Pizzeria L'Antica Abbazia, Ristorante Pizzeria Garden Relais, Agriturismo Ca' Fossà, Ristorante Pizzeria Tilly's, Ristorante Albergo San Giovanni.
For a yummy snack...
Bar Osteria Canal e Birreria Capocaccia
To find great souvenirs to bring home...
Market al Paradiso, Bellò Vini e Bevande e Alimentari il Volo
Looking for a cozy place to sleep?
Monte Grappa offers many different accommodation, from tiny B&B to modern hotels, from typical houses to bikefriendly places.
Take a look to our partners: click here!
***
Get ready to spend a nice holiday here with a lots of events for Christmas and New Year!