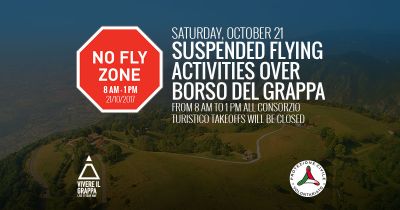 Saturday, 21 October 2017
PLEASE NOTE -
On Saturday, October 21, from 8 am to 1 pm, flying activities over Borso del Grappa territory are suspended
On Saturday, October 21, from 8 am to 1 pm, on Monte Grappa will take place a Civil Protection drill, which will affect a 600 mt range area around Col Serai.
Due to helicopters presence during the drill, flying activities over Borso del Grappa territory are suspended from 8 am to 1 pm, as disposed on the ordinance from the municipality.
Stella Alpina, Tappeti, Camol e Casette Col Serai takeoffs will be closed during the drill. It will not be possible to fly over and land in Borso del Grappa territory.
In case of bad time weather the drill could be postponed.
We thank you all and we ask you maximum respect for safety reasons.