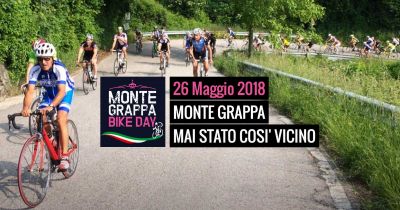 Friday, 26 May 2017 - Friday, 26 May 2017
5th Edition Monte Grappa Bike Day - Saturday 26th May 2018
Bike lovers adore Monte Grappa and its roads towards the pike (Cima Grappa).
This mountain in fact has been theater of several Giro editions and still has a particular charming power to the cyclists. What if for one day, they could be protagonists without worrying about the car traffic? This dream come true on the Monte Grappa Bike Day: a free and non-competitive race open to all bike lovers!
WARNING!
Due to rockfalls near Cornosega tunnels, the Provincial Road SP140 from Semonzo di Borso del Grappa to Cima Grappa is closed to traffic in the stretch of road between km 9 + 900 and km 11 + 500.
Don't miss this huge gathering of bicycle fans that led over 10.000 people on Mount Grappa last year!
Further information: www.montegrappabikeday.it
Traffic and closed roads information - Saturday 26th May 2018
Way up and Way down: from 8 am to 3.30 pm road closed from Romano d'Ezzelino to Cima Grappa (SP 148 and SP149) and the road from Semonzo to Cima Grappa (SP140), already closed for a landslide in Col Serai area, will be also closed further up since the Val dei Lebi fork.
Free Flight Information - Saturday 26th May 2018 - Roads Closed:
Due to Monte Grappa Bike Day it won't be possible to reach Antenne and Campeggia take-off areas from 8.00 am to 3.30 pm.
Take-off areas Stella, Tappeti, Pedana Delta and Casette will be reacheable as usual.
We also remind that Camol and Panettone take-off areas won't be reacheble all day through due both to the landslide and the bike race.