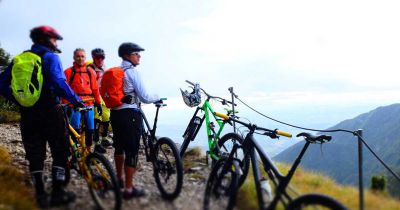 E-Grappa Tour: e-bike escursions
We offer E-bike tours on the Monte Grappa trails with its coaster-like hills and breathtaking views.
Thanks to the new generation of electric or pedal-assisted e-bike bicycles, experiencing Monte Grappa on a mtb has become a fantastic adventure and accessible to everyone!

Our mountain trails offer riders the opportunity to choose between various routes based on their competencies and liking. From some of the trails one can still see roads that were built by soldiers during the World Wars as well as discover the culinary riches found in the Alpine Huts, or, simply just ride for pure fun and the love of the sport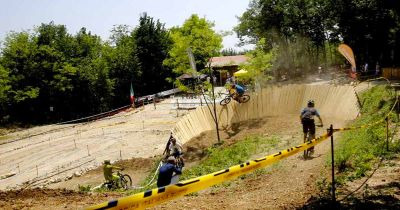 A day at the Bike Park
A Day dedicated to pure fun at the Bike Park
Do you want to experience an adrenaline filled day with your mountain bike on the track?

Come and experience the circuit with mtb XC, enduro, all mountain and e-bikes!
Emerged among the green surroundings awaits a day filled with jumps, breathtaking parabolic curves and so much more.

Our circuit is about 2 km in length and the additional tracks outside of the park ranges from 3 to 11 km and is suitable for fans of all MTB disciplines.