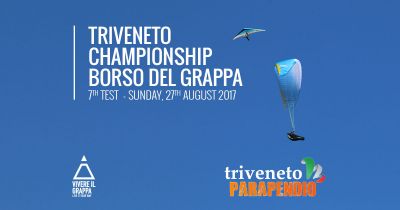 Sunday, 27 August 2017
7th test of the Triveneto Championship of Paragliding and Hang gliding
Sunday, 27th August, at Borso Del Grappa will be held the 7th test of the Triveneto Championship of Paragliding and Hang gliding. More than 100 pilots (both paragliders and hang gliders) will take part at this important event.
Monte Grappa (Panettone) and Garden Relais will be the take-off and landing areas, respectively.
AeroClub Montegrappa organization, together with Consorzio Turistico "Vivere il Grappa", will be engaged in the performance of this famous and anticipated competition.
All enthusiasts, but non competitors, can attend this event from early afternoon. By 17:00, the best pilots, or rather, those who will have completed the route assigned by the Race Manager in the shortest time, will start to land at Garden Relais area.
After the race, a buffet offered by the organization will be available to everyone.
The President Mauro Aldighieri - AeroClub Montegrappa