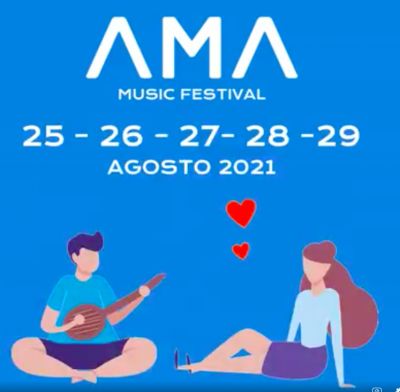 Wednesday, 25 August 2021 - Sunday, 29 August 2021
After being forced to stop, the big music event of the Pedemontana del Grappa is back.
AMA Music Festival 2021
A five-day-event in name of music, art, and sustainability.
AMA Music Festival comes back, after being forced to stop due to Covid-19 virus. Five days of music in the wonderful park of Villa Ca' Cornaro in Romano d'Ezzelino.
The event will be held from 25th August 2021 to 29th August 2021, respecting all the measures for containing the Covid-19 virus.
This is the program of the 5-day-event:
DAY 1 - 25th August 2021 from 6 p.m.
Open Air Music by Vinile - Leo White Noise - Caste Jump - The King
DAY 2 - 26th August 2021
Frah Quintale - Tutti Fenomeni - Bob Galli
DAY 3 - 27th August 2021
Willie Peyote - Esseho - Clara
DAY 4 - 28th August 2021
Subsonica - Tre Allegri Ragazzi Morti
DAY 5 - 29th August 2021
Gazzelle - Mellow Mood - Lost - Bais
EXTRA DATE - 1st September 2021
Manu Chao
Tickets:
DAY 1: online (free offer)
DAY 2: online 25€ (22€ + 3 € pre-sale)
DAY 3: online 25€ (23€ + 3€ pre-sale)
DAY 4: online 28€ (25€ + 3€ pre-sale)
DAY 5: online (a partire da 30€ + 4.50€ pre-sale)
DAY 6: online 28€ (25€ +3€ pre-sale)
ALL DAYS: online 88€ (85€ + 3€ pre-sale)
Info: