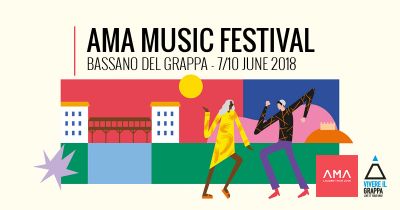 Thursday, 07 June 2018 - Sunday, 10 June 2018
AMA Music Festival 2018 in Bassano del Grappa!
The big Festival of indie and electronic music of the North-East of Italy moves from Asolo to Bassano del Grappa.
Will the city be ready to welcome its thousands of visitors? We bet so! People will enjoy the greatest artists in our beautiful territory context!
The concerts line up is brilliant: The Notwist, The Vaccines, Pop X, Digitalism, Bud Spencer Blues Explosion, Marky Ramone, Leeroy Thorhill (ex Prodigy), Daddy G (Massive Attack), Cosmo, Iosonouncane and the latest Italian trapper Young Signorino!
The schedule includes gems such as Holi - Colour Festival, the Seattle Grunge aftershow and a local bands contest!
Don't miss the festival, from 7 to 10 June 2018 in Bassano del Grappa, Parco Ragazzi del '99!
A unique experience to listen to good music, discover the newest artists, enjoy our amazing territory and simply be there... louder than love!
Info: www.amamusicfestival.com