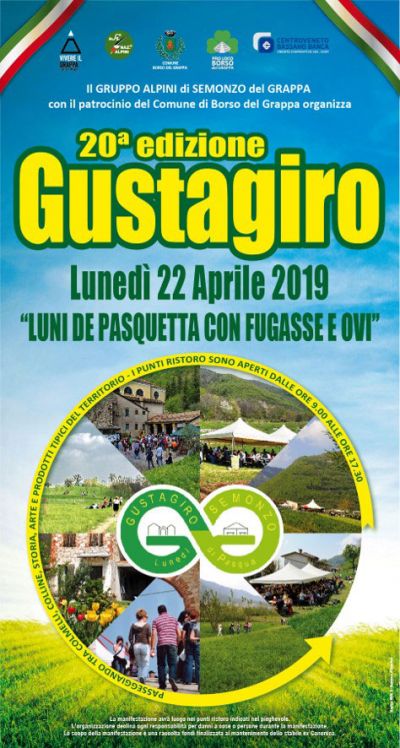 Monday, 22 April 2019
Gustagiro 2019 monday 22 april 2018 - 20th edition Semonzo (Borso del Grappa)
We are waiting for you on monday 22 of april at 'sede degli alpini' to celebrate with Gustagiro "Luni de Pasquetta tra fugasse e ovi"
GUSTAGIRO means walking down Semonzo's streets tasting the local typical food (sopressa and pancetta, focacce, traditional cakes, wines from Valdobbiadene and Piave) during the way.
---
RIGHT HERE YOU COULD HAVE A LOOK AT THE PROGRAM OF THE DAY:
On Monday 22 of April 2019
from 9am delivery of maps for walking rout

you can start at every time

the route is marked by specific signs

special meals are located in 5 different location until 5.30pm
Routes
1 - Sede degli Alpini
2 - Cà Frison
here you could taste the following specialities: soppressa, pancetta, porchetta, "fasoi in salsa" (fagioli in salsa) and patate fritte.
3 - Valle Santa Felicita
a full immersion on the nature of the Valle where you could eat bruschette with local typical oil
4 - Via Semonzetto, Palazzo Grimani
next to Palazzo Grimani many different types of cheese of Grappa with polenta and frittata will be serviced
5 - Via dei Portoni
that's the end of the walking route with special desserts from Grappa and Pedemontana: panna and storti, strudel, crostate and dolci casalinghi.
In every location boiled eggs, focaccia, Prosecco, Valdobbiadene and Cabernet wines will be served at any time.
Good to know:
The route is located in both dirt and paved roads and not so much crowded
Parkers will be available to show you where to park
You can choose whatever route you'd like to do
At the first location maps will be delivered
You don't need to pay a ticket, every meals are served by free offer and independent in every location.
---
For info:
Renato 0423 56 16 63 - Gianpaolo 0423 56 14 74