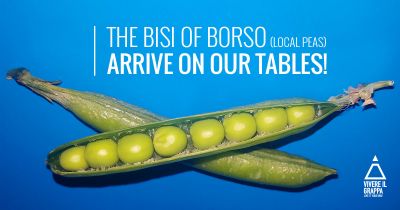 Saturday, 26 May 2018 - Sunday, 10 June 2018
The Bisi of Borso (local peas) arrive on our tables!
End of May and beginning of June are the period of local peas harvest. This little round green fruit of our earth is famous for its unique delicate sweet taste.
The perfect position of Borso del Grappa, the rich soil, the gentle climate... everything works together to give us a delicious pea to enjoy!
In this period the restaurants of the area offer dedicate menus to exalt the biso with both creative and traditional recipes.
We recommend you to visit Garden Relais, Locanda Montegrappa, Agriturismo Ca' Fossà and L'Antica Abbazia.
On the other end in the little village of Sant'Eulalia you can find the peas at the local feast!
Pasta, lasagna, gnocchi with peas, peas and cuttlefish (typical dish), grilled meat accompanied by peas&bacon and eventually the sweet peas cake!
The Feast will take place on 26/27 May and 1/2/3 + 9/10 June.
It is also possible to buy peas from the local producers (info: +39.0423.561451) or at the peas market in Garibaldi Square in Sant'Eulalia on Saturdays 2 and 9 and Sundays 3 and 10 of June in the morning and in the afternoon.