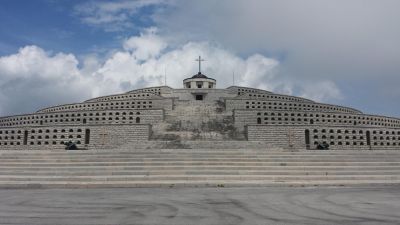 Sunday, 04 August 2019 - Sunday, 04 August 2019
Cima Grappa Ceremony and Campocroce Cheese Festival
On the first weekend of August memory, tradiction and taste gather on Monte Grappa.
On Sunday 4th of August, on the early morning breath the strong emotion of the WWI fallen commemoration on the peak of our Massif, after that discover the local tradition, taste the Monte Grappa typical cheeses Morlacco and Bastardo. And find out during the all weekend (from 2 to 4 August) the special menus dedicated to our cheese created by the local chefs and available at the restaurants of the area.

Bastardo and Morlacco Cheeses Festival
Sunday, August 4, 2019 - Campocroce (Borso del Grappa TV)
In the green and fresh plain of Campocroce (reacheable from Semonzo del Grappa following the road towards Cima Grappa; you will find it after the tunnels and the 20th hairpin bend) the Monte Grappa Cheeses will be celebrated! Tasting, demonstration, cheese competition will make your day! You will find folkloric shows as well as a rich food and drinks stand open from 12 to 4 pm!
Hiking Guided Tours
Saturday, August 3, 2019 - Monte Grappa
You can choose between 10 different itineraries to explore the beauty of Monte Grappa nature. Booking and info: www.ilgrappa.it
Tasty weekend with our cheeses
August 2, 3 and 4, 2019 - Borso del Grappa (TV) and Romano d'Ezzelino (VI)
On 2, 3 and 4 of August come and taste the Monte Grappa Cheeses thanks to the dedicated special menus created by the local chefs. You can find Bastardo and Morlacco special dishes at: L'Antica Abbazia, Garden Relais, Agriturismo Ca' Fossà, Osteria Canal 1803 (Semonzo del Grappa), Dalla Mena (Romano d'Ezzelino), Locanda Montegrappa, Agriturismo da Gabriele, Trattoria alla Posta (Borso del Grappa), Agriturismo da Andreina (Sant'Eulalia).
Cima Grappa Ceremony
August 4, 2019 - Cima Grappa (Monte Grappa)
Sunday 4th of August at the Cima Grappa Military Sacrarium there will be the traditional ceremony in memory of the fallen of the Great War.
Schedule
08.30 Authorities and Standards Welcome
09.00 Begin of the Ceremony
09.30 Authorities greetings and Commemoration
09.45 Saint Mass
10.30 Homage to the Austro-Hungarian fallen and conclusion

The touching event will take place both on the Italian and the Austo-Hungarian side of the Sacrarium and will see the presence of many local and national authorities and delegates from Austria, Hungary, Czech Republic, Slovenia and Slovakia. Several chorus and musicians will taqke part to the event. Road closed near Cima Grappa from 7 am, parking and shuttle service available.