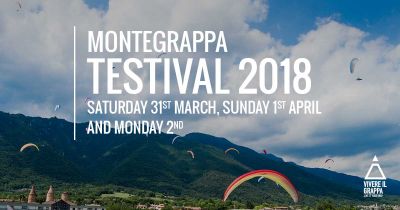 Saturday, 31 March 2018 - Monday, 02 April 2018
Montegrappa Testival 2018
Don't miss the chance to view and try the newest product released from the best paragliding brands!
Visit our landing area at Garden Relais (via Caose 22 - Semonzo di Borso del Grappa) on Saturday 31st March, Sunday 1st April and Monday 2nd from 10 am to 6 pm! Spend the Easter week-end with us, flying in our beautiful sky and enjoying the Testival area on the ground!
In case of bad weather Testival won't take place on that single day but will be confirmed for the good weather remaining ones.
Stay tuned on our Facebook page for the latest updates!