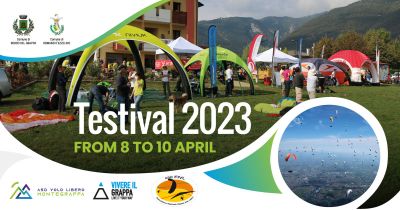 Saturday, 08 April 2023 - Monday, 10 April 2023
Testival 2023
During the Easter weekend (8-9-10th April), in conjunction with Montegrappa Trophy, the representatives of many paragliding brands will be present to make test their products to all the interested pilots.
Don't miss the following appointments with our Testival:
on Saturday at Garden Relais landing, via Caose 22, Borso del Grappa (TV)
on Sunday and Monday at the Sport Complex, via B. Marcello, Romano d'Ezzelino (VI)
Daily shuttle service available (service for fee).
Come to discover the latest news of flying! We wait for you!