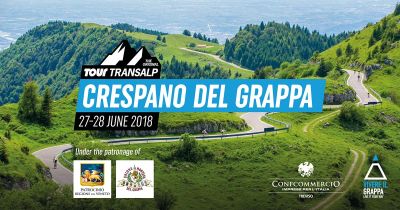 Wednesday, 27 June 2018 - Thursday, 28 June 2018
Transalp is back on Monte Grappa!
The most fascinating and spectacular amateur stage race across Europe is back in our territory! Crespano del Grappa, cozy town at the foot of Monte Grappa, will be stage town both for the arrive of the 4th fraction and the start of the 5th one next 27th and 28th June 2018. The race cycling event is organized by a German committee but has participants from all over the world. 819 kilometers and 17.739 meters of height for about 1000 athletes coming from more than 35 nations! The itinerary start from Bressanone and pass through San Vigilio di Marebbe, Sillian (the only little passage in Austria since the rest of the race is settled in Italy), Fiera di Primiero, Crespano, Trento, Lago di Caldaro and eventually Riva del Garda as the tradition of the race requires.
During the fourth stage, the athletes will cover 106,96 km with 2317 meters of height. After Passo Croce d'Aune they will climb up towards Cima Grappa from Caupo (BL). After the peak they will go down from SP148 Cadorna to Romano d'Ezzelino and finally reach Crespano del Grappa. This small town will be also the starting point of the fifth stage, a really tough one, that will proceed through the plateau of Asiago and then Lavarone, Luserna and Folgaria and reach Trento after 149,75 km with 3120 meters of height! On June 27th the Square of Crespano del Grappa will be transformed on the Transalp 'Village' with technical partners and cycling firms stands. While arrived athletes will find a refreshing snack area and in the night they will enjoy the Pasta Party with the prize giving ceremony of the leaders of the race and winners of the stage. A huge party for athletes and fans, an important event for our territory, emotions, amusement, adrenaline, this and much more is Montegrappa Transalp 2018!
Under the patronage of
Unione Montana del Grappa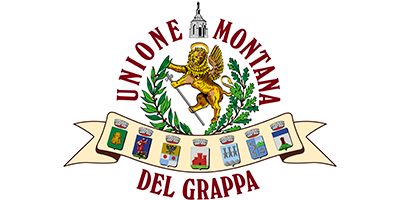 Under the patronage of
Regione Veneto