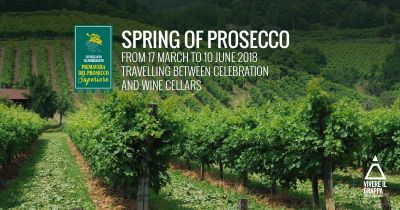 Saturday, 17 March 2018 - Sunday, 10 June 2018
Spring of Prosecco: travelling between celebration and wine cellars.
From Valdobbiadene to Conegliano, between hills and vineyards, Strada del Prosecco (Prosecco's Road) unravels, among old farmhouses, ancient trees and wine cellars.
And it's from these wine cellars that the most famous Wine Tourist event in Veneto starts: the Spring of Prosecco Superiore 2018. The event aims to involve food and wine tourism on the territory of the Alta Marca, to find out where is produced the most drunk sparkling wine in the world: Prosecco Superiore Conegliano-Valdobbiadene DOCG.
This year the program of the Spring of Prosecco Superiore boasts numerous events and initiatives distributed along the Prosecco and Vini dei Colli of Conegliano-Valdobbiadene Route: from 17 March to 10 June 2018 join wine tastings , exhibition and excursions among vineyards and medieval villages.
Common theme of all this is without a doubt the beloved Prosecco. The appointments are many. Let's see what awaits this 23rd edition of the Spring of Prosecco Superiore.
Wine cellars weekend to taste Asolo Prosecco Superiore
"Ea mejo medesina xe el siropo dea cantina"
Thanks to the rich program proposed by PPS 2018 it will be possible to explore the wonderful territory between Valdobbiadene and Conegliano. Let yourself be wrapped by the beauty of this vast land of vineyards.
During the tour you will be able to enjoy the weekend of open wineries and taste excellent wines or stroll through the medieval villages.
Not only; if there is a particular "hankering" you might want to stop in the numerous inns and agritourisms in the area, to be delighted by local products such as Radicchio Rosso di Treviso PGI, the white asparagus of Bassano PDO sciopet, honey and cheese, oil EVO, ossocollo and sopressa "de casada".
Not to mention the numerous uses of chestnuts for desserts and compotes.
All strictly followed by a good glass of wine.
Among the most appreciated wines you can find Verdisio, Asolo Prosecco Superiore, Torchiato di Fregona DOC Colli di Conegliano, Refrontolo Passito Docg and Valdobbiadene Superiore Cartizze DOCG.
Wine is definitely the lead of Spring of Prosecco. This not only stands for open wineries, but also for real events spread in the various municipality of the Alta Trevigiana.
Here's the must-attend events: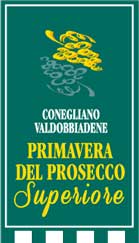 Santo Stefano: from 17.03 to 27.03 - 49 ° Valdobbiadene Cartizze Docg Exhibition;
Col San Martino: from 24.03 to 15.04 - 62 ° Valdobbiadene Docg Exhibition;
San Pietro di Barbozza: from 31.03 to 15.04 - 48 ° Cartizze and Valdobbiadene Docg Exhibition;
Guia: from 13.04 to 01.05 - 50 ° Valdobbiadene Docg Exhibition;
San Giovanni: from 21.04 to 01.05 – 16 ° Cartizze and Valdobbiadene Docg Exhibition;
Colbertaldo di Vidor: from 14.04 to 29.04 - 39° Valdobbiadene Docg Rive di Colbertaldo and Vidor Exhibition;
Combai: from 04.05 to 13.05 - 29° Edition of the review 'E' Verdisio ';
Miane: from 20.04 to 01.05 – 40 ° Conegliano Valdobbiadene Exhibition;
Follina: from 01.06 to 10.06 - 'Sulle note del Prosecco Superiore Docg'..
Fregona: from 22.04 to 01.05 - 44 °Torchiato di Fregona DOCG Exhibition and wines of Colli di Conegliano Docg;
Vittorio Veneto: from 27.04 to 06.05 – The historical center hosts Vini in Loggia;
Corbanese di Tarzo: from 19.05 to 03.06 - 49 ° Vino superiore dei Colli Exhibition;
San Pietro di Feletto: from 26.05 to 10.06 – 47 ° Edition of "Vini di Collina";
Ogliano: from 25.05 to 03.06 – 4 ° Prosecco Rive di Ogliano Exhibition;
Refrontolo: from 21.04 to 06.05 - 49 ° Wine Exhibition;
Conegliano: from 19.05 to 20.05 Conegliano Doc.G Street Wine & Food;
Villa di Cordignano: from 24.03 to 02.04 -54 ° Vintage wines and of Conegliano Valdobbiadene Docg Exhibition.
As you can see, you have your pick of the litter.
Prosecco, between nature and culture
Along the Prosecco Road, between an Exhibition and the open wine cellars, let yourself be lulled by the surrounding landscape and its history and culture jewels. We recommend a visit to the historical Abbey of Follina, to Castel Brando in Cison di Valmarino, to Molinetto della Croda in Refrontolo or to the suggestive Grotte del Caglieron.
On the way from Valdobbiadene to Vittorio Veneto it is possible to visit the Livelet Educational Archaeological Park, to enjoy an unexpected journey through time to discover how our ancestors lived.
This year the Spring of Prosecco also offers "le nostre vie, quattro passi tra i vigneti"(our streets, a walk through the vineyards), a wonderful initiative that includes a series of itineraries to discover the territory on the ancient paths, to reach the most hidden treasures like the Tempietto Spada, Ronch Church and the Sanctuary of the Madonna del Carmine.
PPS is not just a food and wine event.
The goal is in fact to enhance the territory and the products at 360°, this is why this year the Photo Contest and the Journalistic Competition will be presented again, to describe the emotions and sensations of this magnificent event. The Fascetta d'Oro Competition, the first and only Italian competition dedicated to the wines of Conegliano-Valdobbiadene, is a must-attend.
In order to enjoy the territory in a less conventional way, the Prosecco Hills network of companies has provided 3 special packages for an excursion among the hills of Prosecco in an alternative and fun way:
E-motion e-bike Tour, an excursion with e-bikes or pedal-assisted mountain bikes,
Adrenaline Vespa Tour, to enjoy the scenery on a Vespa,
Tasting Food & Wine, an enogastronomic and cultural route suitable for families.
The proposals for this Spring of Prosecco 2018 are too many.
Organize your trip and let yourself be enchanted by this magical land, home of good wine and breathtaking scenery!
Book your stay