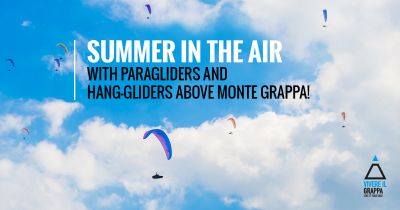 Saturday, 09 June 2018 - Saturday, 01 September 2018
Summer in the air with paragliders and hang-gliders above Monte Grappa!
Paragliding and hang-gliding lovers, this summer Monte Grappa calls you!
Our territory, often identified by its proximity to Bassano del Grappa, is well-known all over Europe as one of the best spot to practice paragliding and hang-gliding in Italy thanks to the perfect environmental condition.
The hot air thermal currents leaving the Venetian plain and reaching the mountain are almost constant during the whole year permitting medium and long distance flights and giving hours of pure amusement to the fan of this amazing discipline.
Summer 2018 Free Flight events and competition
The sky above Monte Grappa will turn coloured thanks to the gliders that will cross it this summer! It will be an unmissable show to admire with family and friends!
A new and interesting context to enjoy Monte Grappa, not only for free flight lovers but for anyone who like spending time outdoor.

Triveneto Paragliding and Hang-gliding Championship 2018
On the 9th and 10th of June we will host the 5th stage of the "Triveneto" paragliding and hang-gliding championship with pilots coming from the North-East of Italy (Veneto, Friuli Venezia Giulia and Trentino Alto Adige).

British All Comers Open 2018
Look up from 21st to 27th of July while the British wings may cross our sky starting from Feltre (Monte Avena) for the All Comers Open Championship organized by the British Paragliding Competitions Panel.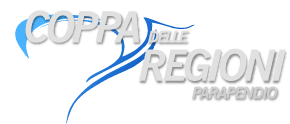 Italian Regional Cup 2018
From 23rd to 26th of August it's the turn of the Italian Paragliding Regional Cup, with the strongest pilots coming from all over Italy in a four days competition.
Pilots will grant a unique show in a mix of speed, strategy and flight technique thanks to their professional equipment and to their high performance gliders that can reach 60 km/h speed!.

Hike & fly Dolomiti Superfly 2018
Eventually from August 27th to the 1st of September the athletes competing in the Dolomiti Superfly (international hike & fly competition) will reach Cima Grappa! They have to complete a circuit starting and arriving in Levico Terme and crossing the beautiful Dolomites (passing through Canazei and Sesto Pusteria in addiction to Monte Grappa).
This great challenge, made of resistance, flight technique and ability to assess meteorological condition and orography, attracted athletes from all over the world: Argentina, Austria, Germany, Japan, India, Italy, Latvia, Norway , New Zealand, Netherlands, Slovenia, Spain, Hungary and USA.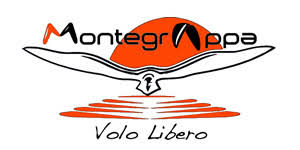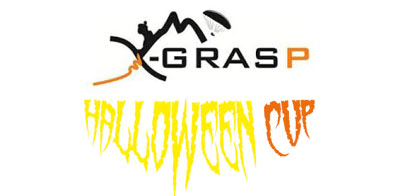 Local Free Flight Association anticipation for Autumn 2018!
The local free flight association (Volo Libero Montegrappa) also announced two competition for October 2018: X-Grasp (hike & fly) and Halloween Cup (speed fly)!
Stay tuned for more info!

To whom who already practise free flight, these will be surely great occasions to admire the strongest Italian and international champions fighting and improving their flight technique.
To fly in our site, equipped of 2 landing and 8 take-off areas, you just need to provide to yourself a valid Flycard that grant the correct maintenance of the areas.