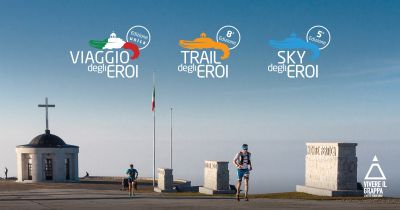 Friday, 21 September 2018 - Sunday, 23 September 2018
Trail degli Eroi 2018 and Sky degli Eroi are two trail running race set on the Monte Grappa Massif that will take place on the 23rd of September. The athletes will cross our beloved Mountain from one side to the other, reaching the peak (Cima Grappa) at 1775 meters above sea level. The event will also give an homage to the fallen on WWI and all wars with a silent passage through the Military Sacrarium of Cima Grappa where about 23.000 soldiers are buried. Since 2018 is the year of the end of WWI Centenary, the organization propose and interesting and emotional journey: il Viaggio degli Eroi. Three days of hiking, running, tent sleeping, chatting around a fire, listening to stories, knowing each other, exploring the places where war memories and natures live together. Three days of sweat and maybe some tears, of priceless feelings and experiences. We will wait for you at the arrival area Village with our stand from 2 pm to 5 pm! Come and Visit us!!
Few numbers of Trail & Sky degli Eroi 2018 and Viaggio degli Eroi
The Trail route is 46 km long with 2500 meters of difference in height (positive) and Sky degli Eroi (26 km with 1600 m D+) is one of the most popular and hard 'skyrun' of Italy due to its huge difference in height in the first 14 kilometers.
Viaggio degli Eroi: Three days, 110 Km and 100 athletes will share emotions, memories and experiences on this unique trip. Marco Olmo, famous ultra trail racer will take part to the event!
Come and Visit Us!
We willl attend to the Village at the arrival area of the three races with our Stand "Vivere il Grappa & Brevetto Montegrappa Trail Running" from 2 pm to 5 pm!
For the athletes competing in Viaggio, Trail and Sky degli Eroi and for the friends who will visit us we have a great promotion on the purchase of our Montegrappa Trail Running 'Patent': a great challenge against yourself running up to Cima Grappa from 10 different routes! Find out more, come and visit us!
Sunday 23 September 2018 Schedule
06.00 am Staring Trail degli Eroi
09.00 am Starting Sky degli Eroi
10.00 am Village opening
10.15 am first athletes arrival
03.00 pm prize giving ceremony
04.30 pm last athlets arrival
05.00 pm event closure
Starting and Arriving point and the Village are located at L'Antica Abbazia Restaurant Camping and Hotel, via Cenghia 82 - Semonzo del Grappa.
Se non fosse degli Eroi... sarebbe solo un trail!
Further info at: www.traildeglieroi.it