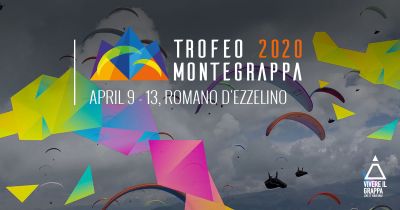 Thursday, 09 April 2020 - Monday, 13 April 2020
International Paragliding Competition cat. FAI2
Trofeo Montegrappa 2020
EVENT CANCELLED... See you in 2021!
Back for an Easter full of surprises!
The traditional Monte Grappa Paragliding competition is back with great news!
From the 9 to the 13 of April 2020, a new location will host the Headquarter and the official landing area of Montegrappa Trophy. The event will be based in Romano d'Ezzelino which already hosted many years ago our famous "Meeting".
There will be 150 pilots competing, including some of the strongest women and men in the paragliding world, that will challenge each other (and themselves) seeking for the best strategy to complete the race.
The 5 task will take them above Monte Grappa and the Veneto foothills, flying over Bassano, Marostica, Asolo and Possagno!
During the 5 days of competition there will be many surprises for pilots and visitors!
The program will include: a paramotor meeting, trail running, trekking, nordic walking and hike&fly excursions, climbing trial, mini bikes, food trucks, beverages and much more for families and children too!
Stay tuned!
The schedule is being defined.
For further information: www.trofeomontegrappa.it