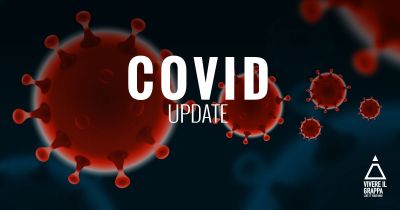 The latest update from Monte Grappa
Coronavirus alert: the situation
⚠️FLIGHT AREA OPEN ⚠️
(update: 10th August 2021)
⚠️ This is only a general update, so please verify these information from the official sources.⚠️
From 7th June 2021: Veneto is WHITE AREA
✅ Movements are allowed within all the Veneto Region territory and to other white zones without time limits or reasons to travel. At the moment the whole Italy is white area.
✅ No more curfew!
✅ Cafè and restaurants are open. Now it is possibile to have lunch and dinner also inside the restaurants (with Green Pass).
✅ Shops, cinemas, theaters and museums are open.
✅ Accommodations are available.
✅ From 28th June wearing mask outdoor is no more compulsory. Please, pay attention to the gatherings.
⚠️ In order to arrive in Italy and to move to orange or red regions, you have to possess the Green Pass, which attests that:
you have done a swab test with a negative result carried out 48 hours previous your arrival in Italy: in this case the Pass is valid only for 48 hours from the time the test is performed and is produced, at the request of the interested party, in paper or digital format, by public health facilities or by private healthcare facilities and pharmacies.


you have done the Covid-19 vacine (fully vaccinated against SARS-CoV-2) in the previous fourteen days: it is valid for six months from the date of completion of the vaccination cycle and is issued, at the request of the person concerned, in paper or digital format, by the the health facility or by the health professionals carrying out the vaccination.


you have healed from Covid-19 in the past six months: the Green Pass is valid for six months from the date of the recovery and it is issued, at the request of the person concerned, in paper or digital format, by the facility which the patient with COVID-19 was admitted, or, for patients who are not hospitalised, by general practitioners and paediatricians.
✈️ If you come from:
Vatican City and S.Marino: no restriction





⚠️

Albania, Saudi Arabia, Armenia, Australia, Azerbaijan, Bosnia and Herzegovina, Brunei, United Arab Emirates, Jordan, Lebanon, Kosovo, Moldova, Montenegro, New Zealand, Qatar, United Kingdom of Great Britain and Northern Ireland, Republic of Korea, Republic of North Macedonia, Serbia, Singapore, Ukraine; Taiwan, Hong Kong and Macao Special Administrative Regions

: negative swab test + 5-day-quarantine

UE countries and Schengen countries:

⚠️You have to possess the Green Pass (see above): If the Green Pass is not presented, you must undergo a 10-day quarantine and take the second wab tes

From 24 May, for all entries into Italy, the paper self-declaration is replaced by the digital form that can be filled in at the following address: https://app.euplf.eu/#. Only who has no electronic devices can print out the paper self-declaration: Self-declaration ENG; Selbsterklaerung DE

Before entering Italy it is necessary also to communicate your arrival to the Healthcare Office:

If your accommodation is in the Treviso Province (e.g. Borso del Grappa, Pieve del Grappa, Asolo...): You have to fill this online form to communicate your arrival and to send a copy of the result of your negative swab test to This email address is being protected from spambots. You need JavaScript enabled to view it.

If your accommodation is in the Vicenza Province - Bassano Healthcare Area (e.g. Mussolente, Romano d'Ezzelino, Bassano...): You have to fill this online form to communicate your arrival. In case of need you can send an email to this email address This email address is being protected from spambots. You need JavaScript enabled to view it.
⚠️

Australia, New Zealand, South Korea, Rwanda, Singapore, and Thailand

: you have to comunicate your arrival to the Healthcare Office (see above) and do the swab test with a negative result + 10-day-quarantine + swab test



⚠️

Canada,

United States of America, and

Japan:

it is possible to visit Italy with the Green Pass

.
Not mentioned countries: swab test with a negative result + 10-day-quarantine.


Brazil, India, Bangladesh, and Sri Lanka: access denied.


THE COVID-19 GREEN PASS: WHERE IS IT MANDATORY?
From 6 August, you need a Covid-19 digital certificate (Green Pass) to enter:
the indoor areas of restaurants;

theatres, cinemas, events and sports competitions;

museums and other cultural venues;

swimming pools, gyms, spas and wellness centres, theme and amusement parks, recreational and leisure centres, gaming halls and casinos;

trade fairs, conferences and meetings.
From 1 September, you will need a Green Pass to board:
airplanes;

interregional ships and ferries (except for the Straits of Messina ferry services);

Intercity and High Speed trains;

long-distance buses;

charter buses.
A Green Pass shall is issued to all persons who have received at least one dose of vaccine or who have received a negative (molecular or antigen) swab test within the previous 48 hours or who have recovered from COVID-19 in the previous six months.
Please before coming also check the exit and return rules of your country.

Flight Area Open

(update: 10th August 2021)
Our take-off and landing areas are OPEN.
Inside our areas (before and after flight) it is compulsory to respect the social distance of at least 2 meters, to wear a face mask and not to create gatherings.
Our Offices opening hours:
Info Point at Garden Relais Landing: open every day from 9am to 12pm (closed in case of bad weather)
Tourist Office at Piazza al Paradiso - Semonzo: open only by appointment
We are available by email or telephone to provide further information.

email: This email address is being protected from spambots. You need JavaScript enabled to view it. (general info) or This email address is being protected from spambots. You need JavaScript enabled to view it. (flycards, flight schools, lost&found...)

phone: +39 0423 910526 (only for emergencies)
___
Italian Government Official Coronavirus Web Page (in English). Click here.
FAQ (in English) Health Ministery: Click here
Foreign Ministery: Click here
Our town official website: Comune di Borso del Grappa (take-off and landing area are located mostly in Borso, not in Bassano del Grappa).
We remind to anyone to follow the WHO guidelines. Click here.