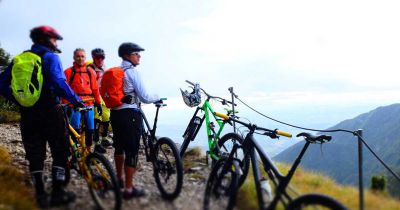 E-Grappa Tour: e-bike escursions
We offer E-bike tours on the Monte Grappa trails with its coaster-like hills and breathtaking views.
Thanks to the new generation of electric or pedal-assisted e-bike bicycles, experiencing Monte Grappa on a mtb has become a fantastic adventure and accessible to everyone!

Our mountain trails offer riders the opportunity to choose between various routes based on their competencies and liking. From some of the trails one can still see roads that were built by soldiers during the World Wars as well as discover the culinary riches found in the Alpine Huts, or, simply just ride for pure fun and the love of the sport
Rendezvous point and e-bikes transfers:
The rendezvous point for E-bike excursions is at the Bike Park at Via Caio Vettonio Borso del Grappa Loc. Cassanego from where a transfer with our bike shuttle can be taken to the trail starting point.
When:
Bookings can be made throughout the year on weekdays and weekends.
Rental of e-bikes:
We offer electric bicycles, a wide range of helmets and protectors for hire.
Rates and Fees:
The fee, inclusive of a guide and transport, is €30.00 per person for a group consisting of a minimum of 4 people however, by prior agreement smaller groups can be accommodated but additional charges will be applied.
Full suspension e-bike rental is €45.00 per day
Stops at the Alpine Huts for lunches and tastings are not included in the fees and rates and are for the rider's own account.
Per info ed iscrizioni: Grappa Gravity Games ASD