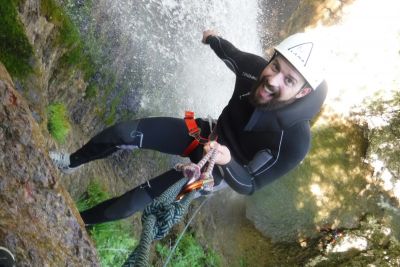 Cool down your summer with Canyoning!
Canyoning means to follow the course of a mountain creek and discover the passages dig by the water through ages. The excursion consists in few walking path and mosty in waterfalls, jumps, natural pools, toboggans, some small 'via ferrata' and a lot of fresh fun! An expert alpine guide will lead you into this amazing adventure.
The guide can choose either canyon suitable for kids and not-very-sporty people or more difficoult path great for more experienced people.
The guide will provide to each participant a wetsuit and a helmet.
Duration of the trip, including transport and luch break, is about 4 hours.
The guide organizes some excursions, especially during the weekends, but it is possible to custom personalized trips for families and groups.
Info and booking: Guida Alpina Gianluca Bellin.