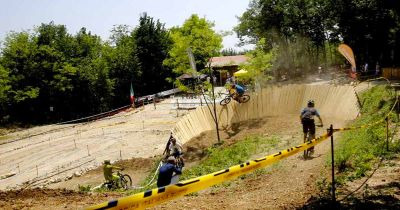 A day at the Bike Park
A Day dedicated to pure fun at the Bike Park
Do you want to experience an adrenaline filled day with your mountain bike on the track?

Come and experience the circuit with mtb XC, enduro, all mountain and e-bikes!
Emerged among the green surroundings awaits a day filled with jumps, breathtaking parabolic curves and so much more.

Our circuit is about 2 km in length and the additional tracks outside of the park ranges from 3 to 11 km and is suitable for fans of all MTB disciplines.
Park info:
Memberships available and an entrance fee to the park is payable.
Our cafeteria serves light meals and drinks and we also offer cheese and salami tasting. 30,00 €
Location:
Via Caio Vettonio, Borso del Grappa Loc. Cassanego
Rentals:
E-bike rental one day € 45.00
When:
The Bike Park is open throughout the year on weekdays and weekends.
For info and reservation: Grappa Gravity Games ASD