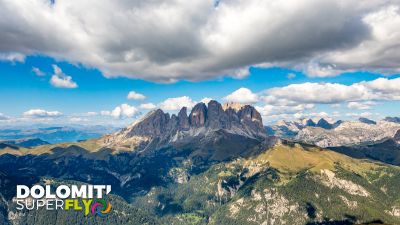 Saturday, 22 August 2020 - Saturday, 29 August 2020
A breathtaking journey across the dolomites
Dolomiti Superfly 2020
We will support our local athlet Diego Basso
Get ready for 2020 Dolomiti Superfly! The beautiful peaks UNESCO World's Heritage will host this amazing challenge: what is it? It's a spectacular hike and fly competition, during which athletes will have to finish the circuit passing through some mandatory turnpoint, on foot or by paragliding flight! They will have 7 days available to complete the route.
Diego Basso, a local athlet coming from Manta Flight School and Volo Libero Montegrappa Association, will compete supported by his team "Pedemontana Selvaggia".

Every day will have competition hours from 7 am to 8.30 pm, except for the first day (22 August) with the initial briefing at 10 am in Levico Terme and the last day (29 August) when the closing time will be at 2 pm. After that the prize giving ceremony and the final party will be held in Levico Terme too. The circuit (of 312 km as the crow flies) has four compulsory turnpoint in addiction to the starting and ending point of Levico: they're Arco, Val di Rabbi, Vipiteno and Feltre.
Only the pilots who will set the perfect strategy will reach the goal! They will have to consider (and not underestimate!) orography of the area, weather situation and their physical condition. The 52 athletes arrive from all over Europe (Italy, Austria, Germany, Switzerland, Romania, Slovenia, Czech Rep., Spain, France, Norway and Poland) and also from further countries such as Argentina, USA, India, Iran, Japan, Turkey, Russia and Brasil! This is the third edition of the competition, organized by Volo Libero Trentino, and it follows the great success of the previous editions.
This discipline, which mixes trekking and paragliding flight, is getting more and more popular thanks to Red Bull x-Alps, the most famous competition so far, that leads athletes across the alps from Slovenia to Monaco. Events and simple gathering of Hike&Fly lovers are multiplying and technical firms are developing lighter equipment without losing in safety. Check out the local "Hike&Fly Experience" on August 29th at Monte Grappa!
We can't wait for Dolomiti Superfly also to support our great athlet Diego Basso!
It will be possible to follow live the athletes connecting to the official website!
Info: www.dolomitisuperfly.com