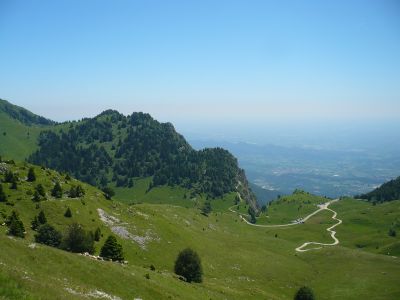 Monte Grappa Green Summer
Tasty cheese, great excursions, amazing views... into nature!
Spring brought us a lot of water and a few snow. Now the mountain is waking up, turning green and waiting for you!
The farmer moved the cattles up and stated to produce their fine and tasty cheese, the trails and paths are now ready to be explored, the blue sky is waiting to be sailed by the colored gliders, the flowers are blossoming, so what are you waiting for?
Check out all the Monte Grappa incredibles opportunities!
Prepare yourself to taste our delicious plates!
Monte Grappa Farms usually open up trom May to October. The production of cheese is very typical and the most known varieties are Molacco and Bastardo. Some of these farms just produce and sell, others provide also meals: you may find wonderful cured meat like Sopressa, fresh bread, pasta, polenta and good wine!
Many local products will be ready in these season: enjoy Borso del Grappa Peas and local Cherries in many and many receipts offered in the area's restaurants.
To gain the necessary hunger to head all these delicious dishes a sport activity is recommended!
You can choose between many options:
a paragliding or hang-gliding tandem flight, to admire our stunning mountain from an unconventional point of view. The flight is made together with a expert pilot who will take care of the technical details, letting you relax and enjoy the experience;
... and if you are already a pilot, please visit out take-off and landing areas!
a bike ride on the foothills or up to Cima Grappa (depending on your legs) though ancient trails, majestic woods and green meadows.
a trail running or simply a trekking excursion... the Massif can be explored and crossed through several paths all indicated by the CAI (red and white plus number) sign. Check out the outdoor activities!
...much more:
So we are ready to welcome you! Come and Visit us!!
Where to sleep: click here.
For any further info, This email address is being protected from spambots. You need JavaScript enabled to view it.!